Florida Has the Dumbest Response to Legalized Gay Marriage Yet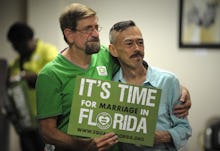 After months of legal wrangling, Florida will finally start handing out same-sex marriage licenses on Tuesday, but some of its counties are reacting in the pettiest way possible.
Duval, Clay and Baker counties, which include the city of Jacksonville and surrounding exurbs, have all decided to outlaw courthouse wedding ceremonies in anticipation of the move. Same-sex couples will still be able to get their licenses — otherwise the counties would be breaking the law — but they can't have any fun while doing it.
The reasoning: Duval Clerk of Courts Ronnie Fussell told the Florida Times-Union that no one on staff was comfortable officiating a gay wedding, so they decided to not officiate any courthouse weddings.
"It was decided as a team, as an office, this would be what we do so that there wouldn't be any discrimination," he said. "The easiest way is to not do them at all."
In Fussell's county, there were 1,911 wedding ceremonies performed at the courthouse in 2013, compared to 6,342 total licenses. Having a courthouse ceremony added an extra $30 to the license fee, which means that the county would have missed out on nearly $60,000 in revenue without them.
Going forward: Not being able to have a courthouse wedding in Jacksonville, Florida, is certainly not the worst adversity same-sex couples have faced, but it's one more example of how homophobia can affect public policy.
The marriages themselves will still go through, though, and that's the most important part. Florida Attorney General Pam Bondi, a same-sex marriage opponent, said earlier this week that she won't block counties from issuing licenses, according to the Miami Herald.
The state is still appealing a federal judge's ruling that its same-sex marriage ban is unconstitutional, meaning the fight isn't over yet. But things are looking sunny for gay marriage in Florida, even without a ceremony.