Watch What Happens When These Boys Are Asked to Slap a Girl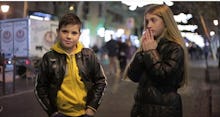 How do young boys react when they're asked to slap a girl?
A video produced by Italian news organization FanPage.It is making rounds on the Internet this week, and it offers a rather powerful — albeit staged — message about the roots of violence against women. In the video, titled "Dalle uno schiaffo" or "From a Slap," an interviewer identified as Luca Iavarone asks young boys a series of questions about themselves and then invites them to interact with a girl introduced as Martina. The boys, ages 7 to 11, report that they want to become soccer players and engineers and pizza makers. They shyly compliment Martina and grin awkwardly when Iavarone instructs them to touch her face.
Then the interaction becomes more serious.
After caressing Martina on command, the boys are asked to "slap" her. Not surprisingly, the discomfort in their eyes is palpable. One by one they all decline. Their answers range from poignant responses like "Girls shouldn't be hit, not even with a flower" and "Why? Because I am a man." 
Out of the mouths of babes, indeed. Domestic violence, and violence against women generally, is about control, dominance and gender roles. These boys have so far internalized the idea that men should be protective of women, yet domestic violence is a pervasive problem in Italy. As noted in the New York Times, there is still a severe lack of support for battered women in Italy. "According to the recommendations of a Council of Europe task force, countries should have one shelter place for a woman and her children for every 10,000 residents," reporter Elisabetta Povoledo wrote. "By this measure, Italy should have about 5,700 spots available in shelters nationwide, but it has just 500." The country is also lacking "when it comes to legal, medical, psychological and financial assistance for women who leave an abusive relationship."
A United Nations report has meanwhile deemed domestic abuse the most prevalent form of violence in the country, prompting headlines like "Italy's statistics make it look like a Third-World country." Prime Minister Enrico Letta has even referred to the national domestic violence crisis as the "femicide" of Italian women.
The roots of gendered violence run deep, so it's important to talk about what might lead these young men to grow up into bigger, stronger men who don't think slapping a girl is unmanly at all. Our Watch, an Australian initiative against violence against women and children, released a video PSA with a similarly youthful focus back in September.
The video isn't without its flaws, of course. All of the participants in the video are light-skinned and appear to come from middle-to-upper class upbringings. But it's immigrant and undocumented women who are especially vulnerable in Italy, and they won't be safe until they are part of the national conversation about the issue. No one is protected from domestic violence, but to erase the experiences of those who are most at risk can be damaging for the cause. The video may raise awareness, but it also oversimplifies the issue.
Hopefully the viral video can become a catalyst for conversations about who's most at risk for abuse and how governments can take action to protect its vulnerable citizens. A staged video won't solve Italy's violence epidemic, but it can spark a dialogue about a problem that has gone on unchecked for far too long.