Powerful PSA Offers Haunting Reminder of Where Abuse Really Begins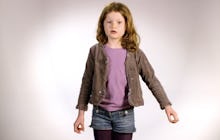 As conversations about domestic violence continue to center on NFL player Ray Rice beating his wife, a new video has come forth with the message that abuse isn't something that happens in the spur of the moment. In fact, the cycle of violence starts long before the first punch is thrown.
From an early age, children develop big dreams of becoming doctors, teachers, scientists and singers — but nowhere in the infinte range of possibilities would a child ever say, "I want to beat my wife so badly that she ends up in the hospital." 
In a a powerful move to inform people about the root causes of gendered domestic violence, "Our Watch," a new Australian initiative to stop violence against women and children, just released its first video PSA.
"When I grow up, my husband tells me what to do ... I won't be seen or heard," two young girls say in the video, with little boys adding, "When I grow up, my wife puts me first ... I'll beat my wife when she offends me."
It seems this PSA couldn't have come at a better time. It serves as a reminder that abuse isn't just something that happens randomly — in an elevator or anywhere else.
In fact, it tends to begin at home, in the messages many men internalize about women as they grow up. Unfortunately, children are all too often raised in homes where women are physically and emotionally abused by their male partners. These lessons about gender roles — the unfortunate and oppressive stereotypes about masculinity and femininity — fuel the vicious cycle of abuse.
A who's who of Australian celebrities appear thorughout the PSA, calling attention to the horrifying statistic that 1 in 6 Australian women have experienced domestic violence. Every week, a woman is killed by a current or former male partner. There's no question that domestic violence is rooted in sexism and patriarchy, a connection the video makes profoundly clear.
"No man wakes up in the morning and, out of the blue, murders his partner," says actress Magda Szubanski. "The long road to family violence starts with the belief that women are possessions, not equals," DJ Ruby Rose continues.
Image Credit: Our Watch via YouTube
The rate of domestic violence in Australia is comparable with that of other English-speaking nations. As the Huffington Post reports, 1 in 4 American women are victims of domestic violence and nearly 1 in 5 will be raped in their lifetime. On average, "two women each week are killed by a current or former male partner in the U.K."
Men of all ages must learn that women are not possessions, or extensions of their own bodies to be used and abused. And the same goes for all perpetrators of domestic violence, whether they are male or female, straight or LGBT.
Our Watch aims "to drive nation-wide change in the culture, behaviours and attitudes that underpin and create violence against women and children," according to its website. Eradicating domestic violence will require a broader, more informed conversation about how everyone can work together to upend sexism.