These 4 Maps Will Make You Want to Stay in Bed All Week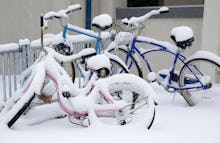 Batten down the hatches, light a fire and cancel your plans: A swath of bitterly cold temperatures and whipping winds is expected to assault the Midwest and cruelly march eastward this week.
In what is the first face-punching indication that it is indeed January, millions of people across the Midwest and East Coast will have to deal with a shot of cold arctic air that plunges temperatures into the single digits, accompanied sprinkling of snow and whimper-inducing wind chills.
What to expect: People in the Upper Midwest are giving the country a preview of the chilly cold air they're dealing with. Temperatures in Minneapolis, Bismarck and Des Moines are forecast in the single digits as highs and lows drop below zero. Wind chills across the region will make it feel like it's -30 degrees, and that's on the warmer side. 
Below is a look at Monday's highs.
Even though temperatures won't be too bad compared to what's in store for the rest of the week, it will feel extremely cold outside on Monday before it gets worse later this week. 
And it's only going to get worse as the week progresses. On Tuesday, the arctic air barrels south and eastward. As a result, temperatures in the Upper Midwest will become even colder, and Midwest and interior Northeast cities will finally feel the brutal chill.
AccuWeather says this round of cold air "is likely to bring the lowest temperatures of the season so far to parts of the Midwest and much of New England and the mid-Atlantic." Highs in Cleveland, Pittsburgh and Indianapolis will hover around 10 degrees with lows below zero with a clipper system dumping up to 5 inches of snow.
The worst of it occurs Wednesday and Thursday when up to 50 million people across 24 states will be dealing with frigid temperatures. The forecast in major Northeast cities including New York and Boston aren't expected to crest above 20 degrees with lows near zero. The map below shows that temperatures for the next several days.
It's winter. Hope you enjoyed the mild temperatures over the past few weeks, since that's now a thing of the past. 
"Regardless of how cold actual temperatures wind up getting, the pattern is clearly shifting to the miserable cold pattern that we should see around this time of the year," writes Gawker's weather blog The Vane, adding that the warmish temperatures "are done for the foreseeable future." 
At least you have an excuse to cancel plans and stay inside all week.