Someone Has Finally Invented a Belt to Make You Stop Eating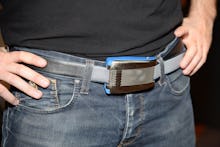 It's only the fifth day of 2015 and that "new year, new you" mantra is already becoming a struggle. If only there were a devious device that automatically adjusted depending on how much you eat to provide that jolt of ambition. 
Soon there will be! At this year's Consumer Electronics Show in Las Vegas, a French startup called Emiota unveiled a high-tech belt called the Belty that tightens or loosens depending how much the wearer eats or exercises each day. 
How does it work? Similar to FitBit and Jawbone's small-sensor technologies, the Star Trek-inspired buckle contains a "collection of motors that expand and retract based on waist size," Mashable reports. 
So if it senses that you've eaten too much, the collection of motors inside the buckle tighten to tell you to lay off. On the flip side, if it senses that you could use the calories, it will loosen up. 
Belty also comes with an app that compiles the data into charts that sends out push alerts with feedback and suggestions on how to maintain that beach-ready body. 
How much will it cost? That's unclear. After all, it was just unveiled Sunday. But a company representative told Mashable it was a "high-end product," so that most likely means big bucks. A release date also hasn't yet been announced. 
The next big market? It's a smart move for a fledgling startup to enter the booming wearable tech market. According to a Juniper Research report from November, by 2018 there will be 60 million various fitness trackers in use around the world, and sales are expected to crest a whopping $30.2 billion.
Still, with an unrevealed price point and concerns about the belt's heft, Belty still has something to prove to consumers before it's the next big thing. Nevertheless, as more wearable technology tracks and adjusts an assortment of our bodily functions, it's only a matter of time until we're all half-cyborg. Welcome to the future!