This European City Is Building an Underground Pipeline System Filled With Beer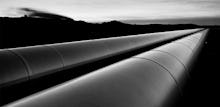 Call it the Keystone Light pipeline. 
The medieval city of Bruges, Belgium, is plotting a 2-mile-long underground pipeline in an effort to rid the roads of environment-polluting, traffic-causing beer trucks.
The "Willy Wonkian approach to beer transport," as the Independent calls it, will connect the De Halve Maan brewery and a bottling plant a few miles away. The beer will gush through the pipe at speeds reaching 12 mph and arrive at the plant in 10 to 15 minutes. 
As a result, about 500 tankers could be pulled from the road because the pipe, capable of transporting 6,000 liters per hour, will do that job for them. It's a clever plan (unless you're the truck driver) since it saves the company time and money while benefiting the environment. 
And desperate alcoholics eager to tap into the ground to find the liquid gold will be out of luck, as the creators believe the pipeline will be hack-proof.
"This is stronger than a steel pipe. It's really very strong. So we are quite confident that no leaks or illegal tapping points will be there," brewery owner Xavier Vanneste told Euronews. Construction will begin later this year.
Not unprecedented. It's an ambitious plan, but this isn't the first time a beer pipeline has been built. In Cleveland, Great Lakes Brewing Company transports its goods in a pipe from the brewery to the bottling plant across the street. 
But as Wired notes, "this is a longer journey, one with real environmental consequences, and the Belgian pipeline surely will have a bigger impact in terms of reducing traffic and carbon emissions." 
Another thing to worry about is that cost hasn't been revealed, despite the plan already having the OK of the city council. The brewery insists that disruptions to the city residents will be minimal because of "computer-guided drilling techniques." 
At least if this pipe bursts, the consequence will be delicious beer and not sloppy amounts of oil. 
h/t Independent