Manhunt Under Way for Suspects Who Shot Two NYPD Officers (Updated)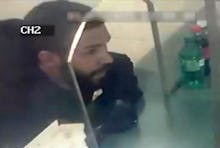 Two New York Police Department officers were shot and wounded after responding to a robbery call in the Bronx late Monday, according to law enforcement officials. The shootings come a day after the funeral of a police officer killed last month in an incident that has ignited tensions between New York's police officers and city hall. 
One officer, 30, was shot in the arm and the lower back, while the other, 38, suffered bullet wounds in the chest and arm. The officers were transported to a local hospital, where they are in critical but stable condition, WNBC-TV reports. The injuries are not life-threatening.
Police Commissioner Bill Bratton said in a statement that the officers were part of a group of five in a plainclothes unit responding to a robbery at a grocery store. One of the suspects went into a nearby Chinese restaurant while another stayed on the street, police say.
After the officers approached a suspect on the street, police say the man in the restaurant began shooting at the officers. 
"They approached the male outside when the male inside began firing on the officers," Chief of Detectives Robert Boyce said Tuesday, according to WCBS-TV.
The suspects then carjacked a Chevrolet Camaro and fled the scene. The car was then ditched and the suspects fled on foot. They are still on the loose as of Tuesday morning. 
Investigators recovered a Ruger Blackhawk revolver nearby where the Camaro was left. Police are investigating reports of a man admitted to a hospital with a gunshot wound, but it's not clear if he is connected to the crime, police say. 
Police released a photo from the surveillance video from the restaurant showing one of the suspects.
"The suspects wanted for shooting these officers are described as two male Hispanics, approximately 25 to 30 years of age, wearing dark clothing," Bratton said. "One of the suspects has a close-cropped full beard. One of the suspects may have also been wounded."
New York Mayor Bill de Blasio thanked the officers for risking their lives and keeping the city safe.
"They went above and beyond the call to protect their fellow New Yorkers," de Blasio said. "Thank God the officers are doing well and will recover."
The shootings occurred after Bratton and de Blasio had touted the city's record-low crime levels with the overall crime level dropping 4% from last year. Shootings, however, rose 13%, leading the NYPD to call that an "area of concern."
The steep drop in crime comes as the NYPD is reportedly enacting a work stoppage in an attempt to get back at the mayor for expressing sympathy with the nationwide protests following the acquittal of officers who killed Eric Garner and Michael Brown.
Update: Three people have been taken into custody in connection with the shooting.