A Pittsburgh Restaurant Just Banned Tipping, and Replaced It With Something Better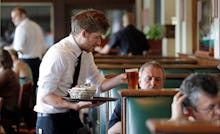 Getting rid of a server's tips seems like an usually cruel and and heartless thing to do, but that's exactly what one Pennsylvania restaurant is doing — for good reason. 
Starting in April, the nationally recognized Bar Marco in Pittsburgh is eschewing employees' tips for a salary with health benefits. It joins a handful of restaurants across the country that recognizes that the tipping system doesn't offer workers the stability they deserve. 
Each full-time employee working roughly 44 hours per week will be paid a $35,000 annual salary and receive health care coverage from day one. Additionally, they'll also be given 500 shares (worth $1) in the restaurant that will vest (e.g., be paid out) after three months of employment. The shares will increase as the value of the restaurant climbs. 
To ensure the restaurant brings in enough money to pay everyone's salary, co-owner Bobby Fry told Next Pittsburgh that rather than raising item prices, the restaurant will expand to fill more seats and begin taking reservations to ensure a steady flow of customers every night.
"Every restaurant does it a little bit differently," he said. "Some restaurants charge a 20% service fee — I don't think that will work well for us. Our plan hinges on hitting revenues, mainly the expansion of the wine room, where gratuity and tax have been included since it launched."
But will it work? It's an uncommon occurrence, since the restaurant industry thrives on low wages to be profitable, hence why the food is reasonably priced. By relying on extremely low minimum wages, restaurants hope you will fill in the rest with a decent tip, although that's not always guaranteed.
But as one redditor pointed out, the odds are in Bar Marco's favor since, as a lounge, it serves plenty of alcohol, which is where most restaurants make their real money. The restaurant obviously understands that, hence the expansion of the wine room.
Also, in case you think $35,000 seems on the low side, keep in mind that it's three times the federal poverty threshold for an individual and that Pittsburgh is a very cheap place to live. Forbes estimates the cost of living is 4.5% below the national average. Plus, cashing in a paycheck like that is still a lot more than the $2.83 minimum wage for tipped workers in the state.
Getting rid of tipping is a good thing. Tipping is a plague that's ruining the restaurant industry. Ask any server and they'll likely quickly think of a horror story in which the tip they received didn't rightly correspond with their bill. 
There's a groundswell in support of getting rid of tipping. "Tipping is a repugnant custom," Slate has argued. "It's bad for consumers and terrible for workers. Tipping does not incentivize hard work. Tipping isn't even good for restaurants, because the legal morass surrounding gratuities results in scores of expensive lawsuits."
Mic's Lauren Davidson has also pointed out in the past that tipping is an extremely unfair system that doesn't rightly incentivize workers. "For one thing, most other workers don't get paid depending on how well they perform," she writes. "What's more, a predetermined tip amount doesn't actually incentivize better work, the percentage system doesn't make sense and most people don't even tip enough for the system to work."
Waiters and restaurant workers deserve better pay. The median hourly rate above the average wage in 2012 was $8.84 an hour. If the added tips don't raise their salary to the federally mandated $7.25 wage, the employer is supposed to fill in the gap. The U.S. Department of Labor found that 9,000 restaurants between 2010 and 2012 were in violation of wage law rules, so that's no guarantee either. 
Every national issue starts locally, so if Bar Marco is as successful as other restaurants, hopefully the big chains will wake up and make some serious changes.
h/t Next Pittsburgh