12 Killed in Shooting at Headquarters of Satirical Magazine in Paris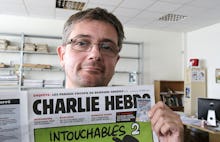 Update 9:11 p.m. ET: CNN is reporting that French police have released the names and photos of the two attackers: Cherif Kouachi and Said Kouachi. Both are said to be potentially armed and dangerous.
Update 8:44 p.m. ET: ABC, AFP and France 24 have reported that the youngest of the three suspects involved in the shooting has turned himself into the police. AFP has also reported that police have released pictures of the brothers wanted for the shootings.
Update 6:39 p.m. ET: NBC's Pete Williams, citing unnamed U.S. officials is reporting that one suspect in the shooting has been killed and that the remaining two are in custody.
Update 4:47 p.m. ET: A spokesman for French police told the Guardian that authorities have arrested three suspects in the Charlie Hebdo attack, but Paris' deputy mayor told CNN that he gave incorrect information — the suspects have been identified, but are still at large.
Update 3:35 p.m. ET: Reuters is reporting based on a local police source that Paris officers are searching for two brothers from the capital region, as well as a third man from the Reims area. The three men are linked to Wednesday's attack on the 'Charlie Hebdo' satirical paper that left 12 dead and several injured.
Update 9:55 a.m. ET: The White House released a statement saying it condemns the shooting and will provide any assistance the French government requires.
At least 12 people are dead, including two police officers, and another ten are wounded after two masked men stormed the headquarters of a French satirical newspaper and opened fired in Paris, according to media reports.
The newspaper targeted was Charlie Hebdo, a controversial publication that previously came under attack in 2011 after it published a satirical image of the prophet Muhammad and ignited a firestorm within the Muslim community.
Witnesses said that two men, armed and masked, marched into the newspaper offices and started shooting in the hallways, and began "killing people as they saw them." One witness said that a gunman was overheard asking for employees by name and another told a French radio station that one shooter was yelling, "The prophet was avenged."
A magazine employee told France TV that the shooting happened during the weekly editorial meeting, at which all the journalists are present. According to Le Monde, Le Figaro, and other local media outlets, famous cartoonists Cabu, Carb, Tignous and Wolinski are dead. Carb, 47, was the editorial director of Charlie Hebdo. 
A French news channel obtained video recorded by eyewitnesses of the purported attack where one the men is heard screaming "Allah Akbar," igniting speculation by local media that the attack might have been planned by terrorists with links to the Islamic State. 
French and international authorities cannot currently confirm any information about the gunmen.
Sky News says the terrorists are on the loose after the pair of men hijacked a vehicle and fled the scene. "They are believed to have been armed with Kalashnikov rifles and a rocket-propelled grenade," it adds.
Charlie Hebdo has a history of challenging religious sensitivities of all stripes: The most recent cover featured a cartoon of the birth of Jesus with the title "La véritable histoire du petit Jésus" ("The True Story of Baby Jesus").
In 2012, the magazine faced harsh criticism and death threats after putting an image of the prophet Muhammad on the cover, a move considered sacrilegious to many Muslims. Charlie Hebdo's editor-in-chief, Stephane Charbonnier, defended publishing the image, telling Der Speigel that "a drawing has never killed anyone."
French President Francois Hollande quickly arrived on the scene amid tight security. He said the terror alert level in Paris had been raised and labeled the incident as a "terrorist attack."
"France today faced a shock," President Hollande told reporters per BBC News, "which is this is a terrorist operation, by terrorists, against a newspaper that has been threatened several times, and that's why we have to give it the protection it needs."
"We must react with firmness, but with consideration for national unity," Hollande added. "We are in a difficult moment — several attacks have been avoided. We knew we were threatened because we are a country of freedom. We will punish the attackers."
The U.S. said it condemned Wednesday's deadly shooting attack on a French newspaper in the "strongest possible terms."
"Everybody here at the White House are with the families of those who were killed or injured in this attack," White House spokesman Josh Earnest said, speaking on MSNBC. "Senior officials at the White House have been in close touch with their counterparts in France this morning."
The White House released the following as an official statement from President Obama:
"I strongly condemn the horrific shooting at the offices of Charlie Hebdo magazine in Paris that has reportedly killed 12 people.  Our thoughts and prayers are with the victims of this terrorist attack and the people of France at this difficult time.  France is America's oldest ally, and has stood shoulder to shoulder with the United States in the fight against terrorists who threaten our shared security and the world. Time and again, the French people have stood up for the universal values that generations of our people have defended.  France, and the great city of Paris where this outrageous attack took place, offer the world a timeless example that will endure well beyond the hateful vision of these killers.  We are in touch with French officials and I have directed my Administration to provide any assistance needed to help bring these terrorists to justice."
"This is a brazen assault on free expression in the heart of Europe," said Committee to Protect Journalists deputy director Robert Mahoney. "The scale of the violence is appalling. Journalists must now stand together to send the message that such murderous attempts to silence us will not stand."
Sky News presenter Kay Burley reported at 9:06 AM EST Wednesday, that French police say they're hunting three gunmen involved in the attack.
This is a developing story. Check back for more information or follow @World_Mic on Twitter for the latest updates.