These Are the Satirical French Cartoons the Gunmen Didn't Want You to See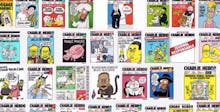 "We have avenged the prophet."
Those five words, reportedly said by one of the masked gunmen during the massacre, are a horrifying coda to years of threats and attacks against French satirical magazine Charlie Hebdo. On Wednesday morning, three men stormed its headquarters in Paris and killed as many as 12 people, including four famous cartoonists, and wounded several others in what's being called a terrorist attack of "exceptional barbarity" by the French government.
But what made Charlie Hebdo a target in the first place?
In 2006, Charlie Hebdo, along with several other European newspapers, republished a Danish cartoon that caricatured the Islamic prophet Muhammad in a series of 12 pictures. In one of them, Muhammad is depicted wearing a turban shaped like a bomb with a burning fuse. The unflattering images sparked violent protests around the world.
Two Muslim organizations sued for "incitement to hatred," and the issue's executive editor, Philippe Val, was acquitted after he was taken to court. The case was seen as an important test for freedom of expression in France.
Five years later, Charlie Hebdo found itself at the center of its own controversy. It printed an issue jokingly "guest edited" by Muhammed titled "Sharia Weekly." The cover included a caricature of the Islamic prophet  warning "100 lashes if you don't die laughing." 
In retaliation, the magazine's offices were firebombed. The Guardian reported that Charlie Hebdo's website was hacked, and the staff was subjected to death threats.
Editor Stéphane Charbonnier defended the issue.
"We feel we're just doing our job as usual," he said at the time. "The only difference is that this week, Muhammad is on the cover, and that's quite rare. We are against all religious fundamentalism but we are not against practicing Muslims. We are for the Arab Spring and against the winter of fanatics."
Charbonnier's commitment to free speech was compounded a week later when the newspaper printed another cover showing a bearded Muslim man kissing a Charlie Hebdo cartoonist with the headline "Love Is Stronger Than Hate."
In 2012, the magazine ran yet another cover mocking Muhammad, this time satirizing the controversial film Innocence of Muslims. The cover depicted the prophet wheeled about by what appears to be a Jewish man in Orthodox garb.
This further angered the French government, which fearfully urged the publication to not print the cover. Out of fear of retribution, the government closed French embassies, cultural centers and schools in 20 countries for their safety. It led to one foreign minister to publicly ask, "Is it really sensible or intelligent to pour fuel on the fire?"
In the eyes of editor-in-chief Gérard Biard, the answer is yes. "We're a newspaper that respects French law," he said. "Now, if there's a law that is different in Kabul or Riyadh, we're not going to bother ourselves with respecting it."
Charlie Hebdo never let what was or wasn't in good taste stop them from printing provocative covers. No religion, ethnicity or person has been spared from their light-hearted and humorous depictions, which made the newspaper an important example of freedom of the press.
Several top editors, including Charbonnier, were assassinated Wednesday, leaving the provocative magazine's editorial team decimated and its future in limbo. Its legacy of speaking truth — or, at least, satire — to power, however, cannot be erased.
Correction: Jan. 9, 2014