15 Powerful Cartoons From Artists Taking a Stand Against the 'Charlie Hebdo' Attack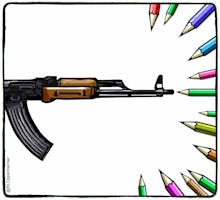 Following the barbaric attack at the Charlie Hebdo headquarters in Paris, which left 12 people dead, cartoonists are coming together in a unique way by expressing their solidarity in pictures.
The reaction is swift and powerful, mainly emphasizing that they won't be censored and that their hearts are with the newspaper staff. The first one, seen below, was drawn by a cartoonist at the French newspaper Le Monde. It reads "Our hearts are with Charlie Hebdo," no doubt a thought shared by millions today.
Below is a look at the 15 most striking cartoons.