Sia's New Video Starring Shia LaBeouf Is Very, Very Weird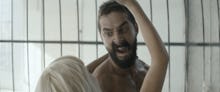 Before last summer, barely anyone knew about Sia. People still weren't very familiar with her even after she scored a mega-hit with "Chandelier" — even now that she's a bonafide pop star, she still doesn't like to show her face. 
That's why the music video for "Elastic Heart" doesn't feature Sia at all. Instead, it stars Maddie Ziegler, the girl from Sia's "Chandelier" video, and Shia LaBeouf, known better recently for his public breakdowns and performance art than his acting. And it is very strange.
For five minutes, a jacked LaBeouf struggles with the pint-sized dancer in a life-sized birdcage. He is covered in dirt. She is covered in a skin-colored leotard. And it's actually incredible.
Sia is famous for these sorts of bizarre public moves. For years before she became famous, she wrote hit pop songs for stars like Rihanna. Since her own album, 1000 Forms of Fear, hit No. 1 this summer, she's been largely silent, and she notoriously wears a brown paper bag over her head in public to keep the press at bay. But she's attacking 2015 with renewed vigor. She's obviously trying to recapture the viral gold she struck with "Chandelier," which has racked up 432 million views on YouTube and propelled her into the mainstream.
Fittingly, LaBeouf has an even stranger public presence these days. After the discovery in December 2013 that his short film "HowardCantour.com" was plagiarized, he had a very public breakdown. In February 2014, he starred in a related performance art exhibit called #IAMSORRY where he sort of just stared at people in a dark room. This video, then, fits the pattern — LaBeouf is doing a lot of thinking about fame and regret these days, and Sia is no stranger to those topics.
Perhaps the strangest thing about this bizarre video, though, is that it works very well. The combination of the reclusive singer, the intriguing occasional-actor and the bold little girl is transfixing. Like everything Sia does — and like the singer herself — this isn't the kind of thing you normally see in the mainstream. But that's exactly why it matters. It's the sort of thing only she could pull off.