Watch Jon Stewart's Tribute to 'Charlie Hebdo': Comedy Shouldn't Be "An Act of Courage"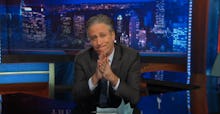 For the second time in two months, Jon Stewart was almost at a loss for words. 
The normally charismatic host solemnly opened the Daily Show on Wednesday by addressing the barbaric murders at French satirical newspaper Charlie Hebdo. After joking about what a terrible year 2014 was "for people," Stewart expressed hope for respite that never came.
"Our hearts are with staff of Charlie Hebdo and their families tonight," he said, looking visibly shaken, before launching into a touching tribute about the world of comedy.
"I know very few people go into comedy as an act of courage, mainly because it shouldn't have to be that," he said. "It shouldn't be an act of courage, it should be taken as established law. But those guys at Hebdo had it, and they were killed for their cartoons."
Stewart said it's a "stark reminder that for the most part the legislators and journalists and institutions that we jab and ridicule are not in any way the enemy. For however frustrating or outraged the back and forth can become it's still back and forth, a conversation amongst those on let's call it 'team civilization.' And this type of violence only clarifies that reality."
The show, however, must go on. 
"Our goal tonight is not to make sense of this because there is no sense to be made of this," he said, before introducing a piece about Nazi cows.
In another poignant moment, the show's "Moment of Zen" segment ended in a cartoon tribute with the words "Je Suis Charlie" on a black background.