Bill Cosby Joked About His Rape Allegations During a Stand-Up Routine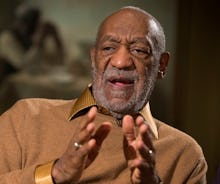 Rape is a laughing matter to Bill Cosby.
At a stand-up show Thursday night in Canada, the embattled comedian joked about being accused of sexual assault by at least 24 women. According to tweets from Richard Warnica, a reporter with the Toronto-based newspaper National Post who was at the show, Cosby told a woman getting up for a drink that "you have to be careful about drinking around me."
The audience first gasped and then, according to Warnica, applauded Cosby.
According to the National Post, two men were thrown out from the half-full auditorium; one yelled, "We don't love you, Bill;" as he was taken by security, he also yelled, "You are a rapist. I'm being ejected because you are a rapist." 
Warnica reports the "predominantly pro-Cosby audience booed the man loudly until the comedian urged them to stop." Cosby stood up from his chair and told audience members "No, no stop," per NBC News.
The men were arrested briefly for not showing identification and released. 
Regardless of the disruption, the crowd was jovial and largely receptive of Cosby. They "cheered him loudly" upon his entrance and "laughed raucously" at his jokes. At the end of the two-hour show, the crowd gave him a standing ovation. 
Outside, however, was a different story. A handful of protesters shouted "Shame on you" to those attending the show. They also held signs saying "I believe the women."
After the show, Cosby released a statement thanking the 2,600 "loyal, patient and courageous fans" for enjoying "the most wonderful medicine that exist for human-kind. Laughter." It concluded: "I'm far from finished."
Cosby's last show in Canada is Friday night.