Watch Jon Stewart Call Out the NYPD's Disgusting War on Mayor de Blasio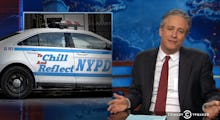 Call it a "public safety staycation."
That's the wonderful way Jon Stewart labeled the ongoing battle between the New York Police Department and the "socialist Sasquatch" running the city, Mayor Bill de Blasio. 
On Thursday's Daily Show, Stewart examined the department's recent work slowdown, which has seen low-level crimes, such as parking summonses, drop 93% compared with the same time last year. The city's overall crime level has dropped to a nearly 50-year low, so you would think that would help relations. 
"But, in fact, just as we've reached cruising altitude, the police have decided to switch the engines off," he said referring to the work stopped. 
"Slowdowns sound so negative negative. More of a really public safety staycation, if you will. Explains the NYPD's new motto: Just chill and reflect." 
So, what can you do in the new New York? Lots of things, as correspondent Jason Jones discovered. He poked fun at the overall indifference that officers show toward city residents, including making a drug deal a few feet away from a cop, drinking (and peeing) in public and selling illegal DVDs. The new New York: It's been waiting for you!