Anonymous Just Swore Revenge for the Attack on 'Charlie Hebdo'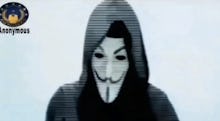 Hacker collective Anonymous is vowing to avenge those killed in Wednesday's massacre at the French satirical newspaper Charlie Hebdo by promising to take jihadist websites and social media accounts offline in the coming days.
In a disturbing video posted Thursday to its YouTube account, a person draped in the group's trademark Guy Fawkes mask says, in a distorted voice, that the hacktivist group is "declaring war against you, the terrorists" in French. The operation, dubbed #OpCharlieHebdo, is aimed at closing all social networks and websites run by "al-Qaida, the Islamic State and other terrorists." 
"We are fighting in memory of those innocent people who fought for freedom of expression," the person said, according to a translation from Canada's Global News. 
Anonymous then shared a list of Twitter accounts and websites that are linked to jihadists on sharing website Pastebin.
"It's obvious that some people don't want, in a free world, this sacrosanct right to express in any way one's opinions," an accompanying statement said, referring to the gunmen. "Anonymous has always fought for the freedom of speech and will never let this right besmirched by obscurantism and mysticism."
"Expect a massive reaction from us because this freedom is what we've been always fighting for," the statement concluded.
The so-called "massive reaction" will likely follow the typical Anonymous roadmap of reporting Twitter accounts with jihadist links to the social networks and temporarily taking down websites. Judging by past missions, Anonymous might reveal the private information of those behind the accounts, overwhelm websites with traffic and hack websites with the group's branding.
Although previous attacks by Anonymous have frequently led to government condemnation of illegal hackings, it seems unlikely that #OpCharlieHebdo will garner the same level of condemnation from governments prepared to ignore, if not embrace, the enemy of its enemy.