Tiffany's Just Made History With a Gorgeous New Engagement Ad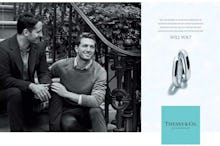 There's a tinge of rainbow in Tiffany and Co.'s traditionally black and white engagement ads.
For the first time in its 178 years, the jeweler is featuring a featuring a gay couple in a glossy advertisement. The new campaign focuses on the love shared between real (very wealthy!) couples — and same-sex couples are obviously no exception.
Take a look:
The text focuses on all aspects of love, reading: "Will you promise to never stop completing my sentences or singing off-key, which I'm afraid you do often? And will you let today be the first sentence of one long story that never, ever ends?"
The new ads reflect the changing tide of same-sex marriage that's been sweeping the country, most notably in the past year. "Nowadays, the road to marriage is no longer linear, and true love can happen more than once with love stories coming in a variety of forms," Tiffany spokeswoman Linda Buckley told Elle. 
Tiffany & Co. follows a long line of brands highlighting same-sex couples in their ads. Throughout the past few months, Cheerio's, Tylenol and Honey Maid have all debuted ads that target the gay community in an attempt to broaden their consumer base.