'Charlie Hebdo' Has the Best Possible Retort to Last Week's Bloody Attack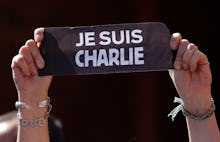 This week's issue of Charlie Hebdo will be back without missing a beat.
The newspaper's lawyers told the Agence France-Presse that the issue will "obviously" feature more cartoons lampooning Muhammad and all religion, proving that no attack will deter Charlie Hebdo from its trademark brand of irreverent satire.
The highly anticipated cover will be unveiled Monday night. Roughly 1 million copies of the special "survivors issue" will be printed for the Wednesday release, far higher than the normal run of 60,000. It will also be translated into 16 languages.
"We will not give in to anything," attorney Richard Malka told the Agence France-Presse (per translation). "The state of mind of 'Je Suis Charlie' also means the right to blasphemy. ... We mock us, politics, religions. It is a state of mind to have."
The newspaper has never backed down in the face of danger. This isn't the first time Charlie Hebdo had to get back on its feet after a gruesome attack targeted the outlet. 
In 2011, its offices in Paris were destroyed by firebombs after it printed an issued jokingly "guest edited" by Muhammad titled Sharia Weekly. The cover, as seen below, reads "100 lashes if you don't die laughing."
Editor Stéphane Charbonnier defended the cover because it kept with the magazine's punch line of satirizing everything. "We feel we're just doing our job as usual," he said in 2011. "The only difference is that this week, Muhammad is on the cover, and that's quite rare. We are against all religious fundamentalism, but we are not against practicing Muslims."
A week later, Charlie Hebdo printed a powerful cover showing its cartoonist kissing a Muslim man with the headline reading "Love Is Stronger Than Hate."
Why it matters. While journalists and activists have mounted a full-throated defense of free press in the aftermath of the Charlie Hebdo massacre, some media outlets have been reticent to republish the newspaper's controversial cartoons in a sign of solidarity, citing safety concerns. And those concerns aren't necessarily unfounded: Early Sunday morning, arsonists attacked the offices of German tabloid Hamburger Morgenpost with "incendiary devices" in what appeared to be retribution for reprinting Charlie Hebdo cartoons.
"My fight is to ensure that this continues ... perhaps a new chapter," Malka said. "I will put all my soul and my energy to make so that there is a future for Charlie."