Here Are 4 Never-Before Seen Illustrations from the New Edition of 'Harry Potter'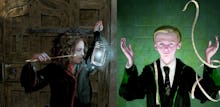 Harry Potter is going to look a bit different the next time you see him.
On Tuesday, Scholastic released a sneak peek of the upcoming illustrated edition of Harry Potter and the Sorcerer's Stone. Illustrated by acclaimed British artist Jim Kay, the highly anticipated new book features wondrous paintings of beloved characters.
In an interview with the Guardian, the admitted Harry Potter fan said he felt an "explosion of delight, followed instantly by an implosion of brain-freezing terror" after hearing he was awarded the job. 
"I am also mindful of the huge responsibility this represents; I just want to make sure I do the best job I possibly can," Kay said. The book is set to be released Oct. 6, and Scholastic plans to release a new illustrated version each year for the next seven years.
Below is just a sneak peak of some Potter characters seen through Kay's eyes.
Ron
Hagrid
Hermione
Draco
h/t Washington Post