Al-Qaida Claims Responsibilty for 'Charlie Hebdo' Massacre as New Footage Emerges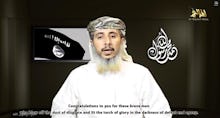 The al-Qaida branch in Yemen has formally claimed responsibility for the Jan. 7 massacre at the Charlie Hebdo headquarters in Paris that left 12 people dead and 11 wounded.
In a chilling video posted to YouTube overnight, commander Nasr Ibn Ali al-Ansi said the attack's target was specifically chosen by the terrorist group's leadership and praised the shooters as "two heroes of Islam," the New York Times reports. The video was quickly pulled.
The English version of the 11-minute video opens with the image of the Eiffel Tower "seeming to dissolve into a wisp of the smoke," Reuters reports. It's titled "Vengeance for the Prophet: A Message Regarding the Blessed Battle of Paris."
"When the heroes were assigned, they accepted," al-Ansi said. "They promised and fulfilled." He confirmed the attacks were revenge for the satirical magazine's depictions of the Islamic Prophet Muhammad. 
More stirring, al-Ansi said the attack was carried out in "implementation" by extremist mastermind Anwar al-Awlaki, who died in an American drone strike in Yemen in 2011. That means the Charlie Hebdo attacks were at least three years in the making.
Al-Ansi, however, did not claim stake in Friday's hostage situation at a kosher grocery store in Paris that left four people dead. He did call it a "blessing from Allah" that the two events took place within a few days of each other.
The video also placed the blame on the United States and France, in addition to Charlie Hebdo. 
"It is France that has shared all of America's crimes," al-Ansi said. "It is France that has committed crimes in Mali and the Islamic Maghreb. It is France that supports the annihilation of Muslims in Central Africa in the name of race cleansing."
Media organizations could not immediately verify the authenticity of the video.
"There has been no independent confirmation that al-Qaida in the Arabian Peninsula was in fact responsible," according to the New York Times. "But it can take days to get approval from leaders of the organization and additional time to produce the videos and documents supporting the claim."
The video comes a day after eyewitness footage of last week's attacks on Charlie Hebdo was released. Amateur footage shows Cherif and Said Kouachi reloading their guns, with one of them yelling, "We have avenged the Prophet Muhammad" into the streets.
The brothers then get into their car and open fire on a police car that's blocking their way out of the tight alleys. Their rounds of shots led the police car to quickly reverse as the brothers' car veered toward them. 
"It is thought the police vehicle was struck by several bullets but the officers inside were unhurt — unlike Ahmed Merabet, the policeman shot dead by the brothers nearby as he lay wounded on the ground," Euronews wrote.