#JeSuisDieudonne Exposes France's Glaring Hypocrisy Over Free Speech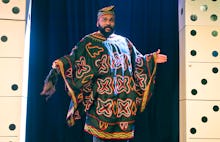 #JeSuisCharlie sent a message of solidarity. #JeSuisAhmed painted a picture of compassion. Now, #JeSuisDieudonne has surfaced to call out the hypocrisy of France's attitudes toward free speech.
Following the arrest of comedian Dieudonné M'bala M'bala for being an "apologist of terrorism," the hashtag has cropped as a critique of the double standard of free speech in France. The controversial comedian was arrested after he published a Facebook post that appeared to sympathize with Amédy Coulibaly, the gunmen who killed four people and one police officer at a Jewish supermarket last week.
The arrest would appear to contradict France's strident defense of the satirical magazine Charlie Hebdo, whose cartoons have been criticized for their inflammatory nature. 
As the Associated Press points out, the detainment is "raising questions about whether President Francois Hollande's Socialist government is impinging on the very freedom of speech that it so vigorously defends when it comes to Charlie Hebdo."
The hashtag emerged Wednesday after news of the incident became public: 
Free speech for everyone, or free speech for no one. Dieudonné was one of 54 people arrested, including four minors, since the Jan. 7 attacks in Paris. Their offenses? "Hate speech, anti-Semitism and glorifying terrorism," according to the Associated Press. 
Inciting terrorism can result in a five-year prison sentence and conducting that behavior online, as Dieudonné is alleged to have done, can increase that amount to seven years. Some of those arrested have already been convicted under "special measures," the Associated Press reported.
If a seven-year prison sentence for a Facebook post seems ludicrous, especially given France's very recent attitudes toward Charlie Hebdo's cartoons, that's because it is.
As Agnès Tricoire of the French Human Rights League argued last year after the comedian's performances were banned, "A democracy does not back down from its fundamental freedoms, from freedom of expression. This astonishing decision sets a dangerous precedent. Who else is going to be banned for having a controversial point of view?"
There is a legal precedent here, however. Like many European countries, France has strong laws against hate speech, and they're particularly stringent when it comes to anti-Semitism. Following the Paris attacks, authorities have been ordered by the Justice Ministry to stamp out any evidence of remarks like this.
But as the Associated Press reported, none of the 54 people arrested have been linked to the attacks, which inevitably leads to the question of why they were detained in the first place.
Foreign Policy's Leela Jacinto explains: 
"[T]he ink does not always flow free in France, which leads the Western world in crackdowns on free speech. Holocaust denial is a crime, and denying the Armenian genocide nearly became one in 2012. 
It's no secret that Dieudonné has used pernicious and offensive material in the past. But as the Intercept's Glenn Greenwald argues, the controversy he provokes is undeniably similar to that which resulted from Charlie Hebdo's cartoons, yet the two situations led to two different outcomes: One was celebrated, while the other led to an arrest. It's deeply troubling, particularly as France trumpets its defense of freedom of expression, that "liberté," it seems, extends to only a few.