Watch Ellen Degeneres Shut Down a Homophobic Hater in the Funniest Way Possible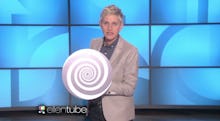 If there's anything we've learned within the past week, it's that love is stronger than hate — and Ellen DeGeneres is a living example.
The universally beloved talk show was a target of a hate-filled Christian Post column titled "Are You Aware of the Avalanche of Gay Programming Assaulting Your Home?" Published last week, it was written by conservative pastor and noted heterosexist idiot Larry Tomczak, who claims Hollywood pushes an "immoral," "indecent" and "shameful" homosexual agenda that's poisoning children et cetera. Tomczak ridicules DeGeneres in the article by mocking her "marriage" (with scare quotes) and says she uses guests like Taylor Swift to "attract young girls."
Well, let's just say Degeneres had a few words for him on Wednesday's show. "I don't usually read anything about myself," she said. "First of all, I'm not 'married.' I'm married. That's all."
"Larry, I don't even know about what it means to celebrate my lesbianism. I mean, well, I guess I do," she said, setting off a party popper. "Yay! I'm gay!"
After mocking Tomczak's criticisms of other shows like Glee and Modern Family that "promote homosexuality," she turned serious. 
"The only way I'm trying to influence people is to be more kind and compassionate to each other with the message I'm sending out," she said. "I don't have an agenda."
"I'm not here to brainwash anyone," DeGeneres added, before holding a spinning vortex prop to "brainwash" her audience.
"Attention, youth of the world: I want you to live your lives being exactly who you are, " she said. "Be true to yourself — the most important thing is to be true to yourself."
h/t The Wrap