The Hero of the Kosher Supermarket Attack in Paris Is Getting the Recognition He Deserves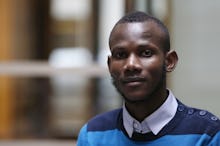 The news: Lassana Bathily is getting the recognition he deserves. During last week's deadly attack on a Kosher market in Paris, the Malian Muslim man hid several customers from the gunman, likely saving their lives.
To recognize his heroism, the French government announced Thursday it's awarding the 24-year-old with French citizenship. Interior Minister Bernard Cazeneuve praised his "act of bravery" and said Bathily's citizenship application, which he applied for in July 2014, will be expedited. He will become a French citizen Jan. 20, France 24 reports. 
The background: The French government's actions caps off an emotionally charged week for Bathily, whose actions of bravery and selflessness garnered worldwide attention. After gunman Amédy Coulibaly charged into the east Paris supermarket, Bathily said the "only option" was to lead 15 customers downstairs and hide them in a walk-in freezer. 
Bathily escaped through one the store's exits, fully knowing he could have been shot. Bizarrely, as he left, police officers reportedly confused him for the attacker and handcuffed him for more than hour.
"Once police realized their mistake, he provided them with a key to open the supermarket's metal blinds to mount their assault," France 24 reports, ultimately leading to the end of the crisis. Coulibaly and four others ultimately died.
After the ordeal was over, the hostages congratulated him because his simple action likely saved their lives. 
Praise from all over: Bathily's action has attracted praises from the Internet to world leaders. 
Israeli Prime Minister Benjamin Netanyahu expressed his "appreciation to the Mali citizen" who saved the market-goers' lives. The story, meanwhile, provided French media with a much needed heartwarming story following the attacks in the Charlie Hebdo offices. Newspapers have been splashing his face all over with the headline "Malian Muslim, hero of the hostage situation in Vincennes.
People from around the world are rushing to sign a 300,000-strong petition on Change.org, asking the French government to give him the Legion d'Honneur, one of the country's prestigious awards. "Even in darkness and desolation, there's always a ray of light somewhere," the petition reads. "Such is the case with Lassana Bathily."
Although all of the recognition might be heartwarming for him to hear, Bathily seems to be as humble as ever. The practicing Muslim said he considered the market his "second family" and anyone in that situation should've done the same thing.
"We're brothers. It's not a question of Jews, Christians or Muslims," he told a French cable network, per the AFP. "We're all in the same boat, and we have to help one another to get out of this crisis."