#OscarsSoWhite Exposes Oscars' Lack of Diversity in The Best Way Possible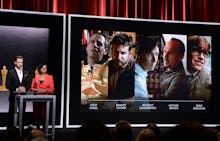 This year's Oscar nominations are a big, white disgrace.
No woman was nominated in the Best Director category and zero people of color received nominations in acting categories, despite no shortage of talent. Selma, a widely acclaimed film about the civil rights era, was particularly hailed as Oscar-worthy, but its director, Ava DuVernay, and actors such as David Oyelowo and Carmen Ejogo were excluded from any nominations.
"I started the #OscarsSoWhite hashtag to bring attention to the fact that, once again, there is a lack of diversity and representation of people of color in the Oscar nominations," Reign told Mic. "Both in front of the camera and behind, people of color are not being recognized by the academy for their outstanding achievements in film. There also seems to be a disconnect; how can an important movie like Selma be nominated for Best Picture, but none of the major facets of the film (director, actor, actress, screenplay, etc.) receive a nomination?"
Reign hopes the hashtag "brings awareness to the lack of diversity in film and makes both the viewing public and, importantly, studio executives and Oscar voters, take note of the fact that, in 2015, this should not even be a discussion." 
Other users used the #OscarNom hashtag to highlight their disappointment with this year's nominations. Most poignant were tweets pointing out the pervasive stereotypes that plague the industry's roster of roles offered to black women.
The Oscars can solve its diversity problem with one simple solution: Change who gets to vote. It's unconscionable that the most-watched and most prestigious awards show has judges that are 77% male and 92% white. It does not represent the entertainment industry, nor does it represent moviegoers, 46% of whom are people of color and a majority of whom are female.
If the Oscars want to stay relevant to a young audience, which is the most diverse generation in history and which increasingly isn't tuning in to award shows (or anything on a television, for that matter), they need to examine the implicit bias in their selection process. If the academy doesn't solve its problem, the Oscars won't just lose credibility, it will lose millennials too.