European Authorities Arrest Dozens in Massive Anti-Terror Sweep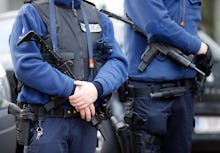 Dozens of people were detained early Friday in three European countries as officials ramped up their sweep of suspected Islamic extremists in the wake of last week's deadly terror attacks in Paris.
In Belgium, a raid rounded up 13 people suspected of links to Islamic groups who were planning attacks on police officers. The Associated Press reports that officials conducted searches at a dozen locations where they found military-grade weapons, including AK-47 assault rifles.
The arrests came a day after another anti-terror raid in the eastern Belgium town of Verviers where police killed two suspected jihadists and arrested another. The raid jolted the country with scenes of fires and gun battles in the normally quiet town an hour east of Brussels. 
Police found assault rifles, explosives and police uniforms in the suspect's apartment where they believed deadly attacks were "imminent."
"This group was on the point of carrying out terrorist attacks aiming to kill police officers in the streets and in police stations," police spokesman Eric Van Der Sypt told reporters. He did not comment on reports that one of the plans was to behead a police officer, much like a jihadist attack in London about two years ago. 
In France, meanwhile, authorities arrested 12 people overnight in several suburbs across Paris with connections to last week's attacks. Prosecutors said they were questioning them about "possible logistic support" they have given to the gunmen, including information about obtaining weapons and vehicles. 
Prime Minister Manual Vallas said he doesn't believe there's a connection between the arrests in Belgium and the men arrested Friday. "There doesn't seem to be a link, but we must always remain cautious," he said. "France must protect itself against this jihadist terrorism, this radical Islam."
Germany's Deutsche Welle network reports that more than 200 officers conducted raids in 11 locations across Berlin, resulting in the arrests two Turkish nationals. They were suspected of plotting attacks in the Middle Eastern country and recruiting Syrian fighters.