Meet the 2 Most Dangerous Teens in America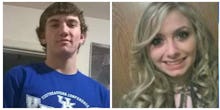 It has the makings of a CW show, but two teens are in the midst of some real-life drama. 
Police departments from at least three states are searching for two Kentucky teens who two weeks ago embarked on a multistate crime spree filled with stolen vehicles, fraudulent checks and guns.
Authorities are frantically searching for 18-year-old Dalton Hayes and his girlfriend, 13-year-old Cheyenne Phillips, who were last seen in their home state Jan. 3. Police have described Hayes and Phillips' behavior as "brazen and dangerous," and the two are the prime suspects in a string of home burglaries that took place before the couple left Kentucky.
The two Bonnie and Clyde-like characters are accused of stealing from neighbors a red Toyota Tacoma truck that had an unloaded gun in it and fleeing with it. 
Nine days after leaving their hometown, they were spotted using stolen checks at a Wal-Mart in Manning, South Carolina. Security cameras at the store caught a picture of the stolen Tacoma, as seen below.
A police officer from their hometown of Grayson County, Kentucky, told the Lexington Herald-Leader that the teens' first purchase was with a stolen check that was $20 over the amount, so they ended up receiving the rest of the check amount in cash. The teens hopped back in the same Tacoma and headed to Henry County, Georgia, roughly 40 minutes south of Atlanta. That's where they allegedly stole a 2001 silver Toyota Tundra that had .45- and .38-caliber handguns in the backseat. 
Henry County police Lt. Joey Smith told the Atlanta Journal-Consitution that there "should be heightened alert, and everyone should take caution if they see the vehicle." It's unclear if they are still in Georgia.
The pair of recently started dating, and Hayes' mother claims Dalton doesn't know Cheyenne is only 13. The last time she heard from her son was on Jan. 6 in a text message saying: "Mommy, don't worry. I'm fine, OK — plenty of money and food. Love you, good night, sweet dreams." 
Grayson County Sheriff Norman Chaffins said the pair faces several charges, including auto theft. Hayes is under extra scrutiny for charges of custodial interference since he lured a minor away from her legal guardians. 
He warned that the teens' situation will only continue to get worse.
"Whatever it is, it can be worked through," Chaffins told WAVE-TV. "That's what we want to tell these young people — we want them to come home."