The Cast of 'The West Wing' Just Reunited — And It Was Absolutely Amazing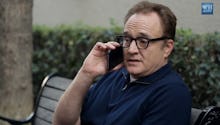 That highly anticipated West Wing reunion wasn't a mirage — it was for the White House.
The Obama administration announced its "Big Block of Cheese" day, a weirdly titled government tradition where the White House answers Americans' questions on various issues, is returning Wednesday. For the second time, it's using the beloved characters from the hit NBC drama, which originally introduced the unusual tradition to the American public, to get people amped for the big day.
Instead of bothering former White House Press Secretary Jay Carney, this year they make wacky cheese jokes to Josh Earnest. 
And the cast is bigger than ever with Mary McCormack, Allison Janney, Richard Schiff, Dule Hill and even the "president" himself, Martin Sheen. The show once lovingly mocked the tradition in an episode.
Unlike Andrew Jackson's tradition of letting people inside the White House, the question-and-answer session will be conducted online. 
"So, like Reddit?" asks Bradley Whitford. "Yeah, but without the weird stuff," Earnest replies.