Islamic State Group Threatens to Kill Two Japanese Hostages in New Video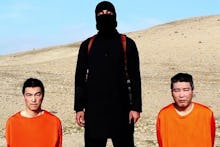 In a chilling video posted online Tuesday, the Islamic State group threatened to behead two Japanese men within 72 hours unless the Islamic militant group receives a $200 million ransom. 
Much like the group's previous messages, the video shows a black-clad and masked man speaking with a British accent with the two hostages in orange clothing. It shows IS is becoming increasingly more brazen because this is the first time it has demanded money for hostages, Reuters reports. 
According to the captions, the captives are named Kenji Goto and Haruna Yukawa. Produced by the group's al-Furqan media wing, the man in the video lambasts the Japanese government's support of the U.S.-led effort to stamp out the group as "foolish." 
In a press conference, Japanese Prime Minister Shinzo Abe called the threat "unacceptable" and demanded the men be released unharmed. "The international community needs to respond firmly and cooperate without caving into terrorism," he said.
Japan's Chief Cabinet Secretary Yoshihide Suga didn't say if the country will pay the ransom. "If true, the act of threat in exchange of people's lives is unforgivable, and we feel strong indignation," Suga told reporters. "We will make our utmost effort to win their release as soon as possible."
The victims. The two Japanese men appear to know each other, according to press reports. 
Yukawa, 43, is a private military contractor and was recently kidnapped in Syria after going to the country to train with militants. A picture on his Facebook page places him in the country because he's holding an assault rifle with the caption "Syria war in Aleppo 2014."
He wrote that he hoped to film his "fighting scenes" and called the country "the most dangerous."
Goto is a freelance journalist who was in Syria reporting about its civil war. He recently emailed the Associated Press saying he hopes to "convey the atmosphere from where I am and share it."