The Amazing Story of How a 13-Year-Old Boy Created a Braille Printer Out of Legos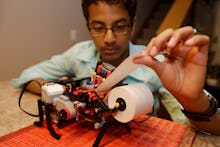 Whatever you were doing in eighth grade, it probably wasn't as awesome as what Shubham Banerjee has been up to.
The California 13-year-old wanted to know how blind people read, so he searched online and was shocked to find Braille printers cost up to $2,000. "I just thought that price should not be there. I know that there is a simpler way to do this," he told the Associated Press.
What'd he do about it? Banerjee invented his own Braille printer, using some unlikely tools: Legos. He spent months designing a printer with his Lego Mindstorms EV3 kit to develop an accessible product at an affordable price.
The streamlined printer, called the Braigo (a portmanteau of "Braille" and "Lego") has many advantages over its costlier cousins. Costing $350 and weighing a few pounds, the Braigo is a cheaper and more portable version of the machines that typically weigh up to 20 pounds.
The Braigo works by printing materials on paper with raised dots rather than ink:
How was it funded? A $35,000 investment from his father helped Banerjee transform his vision into a reality. 
"We as parents started to get involved more, thinking that he's on to something and this innovation process has to continue," said his father, Niloy Banerjee, who works at Intel. The company was so interested in his son's invention they invested an "undisclosed sum" into the fledgling machinery company.
"He's solving a real problem, and he wants to go off and disrupt an existing industry. And that's really what it's all about," Edward Ross, an Intel director, told the Associated Press. The teen is using the money to staff up with professional engineers and created a prototype that translates electronic text into Braille. He hopes to have a new printer on the market later this year after organizations for the blind give his invention a trial run. 
This machine could be life-changing. Henry Wedler, who is blind and earning his doctorate at the University of California, Davis, knows that first hand. 
"This Braille printer is a great way for people around the world who really don't have many resources at all to learn Braille and to use it practically," he told the Associated Press. Wedler became an adviser for Braigo Labs after learning about the product's implications.
Ultimately, the printer could finally become a lucrative household item that will help people who are blind print shopping lists or books.
"My end goal would probably be having most of the blind people ... using my Braille printer," Banerjee said.