The First Trailer for Tina Fey's Netflix Original Series Is Here, and It's Hilarious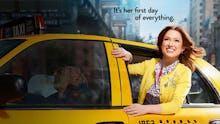 Netflix has finally released the trailer for its highly anticipated new comedy series, Unbreakable Kimmy Schimdt. And by the looks of it, we might have finally found a replacement for 30 Rock.
The oddball comedy features Ellie Kemper (Erin from the U.S. version of The Office) making a new life for herself in New York after being trapped in a cult for 15 years. Her roommate is Titus Burgess (the sassy D'Fawn from 30 Rock) and she ends up getting a job working for Jane Krakowski, who thankfully plays a carbon copy of 30 Rock wackadoodle Jenna Maroney.
Can't you just sense the Jenna when she throws the water away? Watch now:
It's no surprise that all of these 30 Rock alumni are banding together: The comedy is being produced for Netflix by several of the beloved series' former producers, including Tina Fey and Robert Carlock. 
The show has been a year and a half in the making. NBC originally ordered a pilot back in October 2013 and shoved it off to Netflix last November after its fall comedy slate flopped. Netflix picked it up for 13 episodes and ordered a second season, proving that it's already a better caretaker than the peacock would've ever been. 
Unbreakable Kimmy Schmidt drops March 6 on Netflix.