Queen Elizabeth II Once Trolled King Abdullah in the Best Possible Way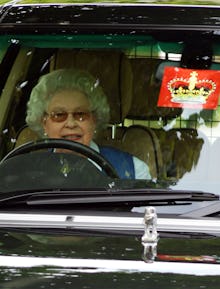 Samir Hussein/Getty Images
The death of King Abdullah of Saudi Arabia on Thursday has prompted world leaders, diplomats and other dignitaries to share their stories about the late autocrat — as well as debate over his status as a "reformer," a dubious claim given Saudi Arabia's worst-in-class status on human rights.
Of the numerous Stone Age-era ideas the king failed to reform: The de facto ban on female drivers (it's not illegal, but authorities that issue driver's licenses refuse to issue to them to women nationwide), despite hinting in 2005 that he was amenable to changing the restriction. Saudi Arabia is the only country in the world to do this, and women face severe punishments, including lashings, if they're caught driving. 
This exchange with Queen Elizabeth II should have changed his mind. In 2003, Sir Sherard Cowper-Coles, the British ambassador to Saudi Arabia, saw this firsthand when her majesty offered Abdullah a tour of her Balmoral Castle in Scotland:
After lunch, the queen had asked her royal guest whether he would like a tour of the estate. Prompted by his foreign minister the urbane Prince Saud, an initially hesitant Abdullah had agreed. The royal Land Rovers were drawn up in front of the castle. As instructed, the crown prince climbed into the front seat of the front Land Rover, his interpreter in the seat behind.
To his surprise, the queen climbed into the driving seat, turned the ignition and drove off. Women are not yet allowed to drive in Saudi Arabia, and Abdullah was not used to being driven by a woman, let alone a queen.
Abdullah was all but clutching his pearls at this point, according to Cowper-Coles' account in the Sunday Times, looking visibly nervous:
His nervousness only increased as the queen, an army driver in wartime, accelerated the Land Rover along the narrow Scottish estate roads, talking all the time. Through his interpreter, the crown prince implored the queen to slow down and concentrate on the road ahead.
Despite that abrupt introduction to modern civilization, Abdullah never did initiate reform on the much-maligned policy that's still in effect today. Maybe his successor, Crown Prince Salman bin Abdulaziz al-Saud, is now destined for a ride: