4 Maps Will Make You Want to Stay Inside All Weekend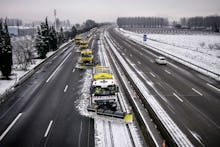 Fire up the Netflix because it's going to be a weekend full of slush, snow and sleet for millions of people in the Northeast.
A major storm is churning in the Southeast, dumping heavy rain and threatening thunderstorms before it barrels up the Atlantic Seaboard on Friday night. When it hits the East Coast on Saturday, forecasters say it will undergo a "bombogenesis" — when the storm's pressure steeply drops and creating high-powered winds to ruin people's moods.
The timing. The storm will impact Washington D.C. and Baltimore on Friday night, but above-freezing temperatures will mainly make it an all rain event with chance of ice. The storm will continue its march northward Friday night before arriving in Philadelphia and New York early Saturday morning. By noon, the storm will be fully inflated over Boston.
In preparation, the National Weather Service has issued warnings for hundreds of counties stretching from North Carolina to Maine. 
The precipitation. Since the thermometer is teetering barely above (and below) freezing, rain will limit snowfall from Washington D.C. to Providence, Rhode Island. Snow will be least likely south to north, so the nation's capital will see mostly ice and sleet, while New York could get between three to five inches. 
The heavier snow amounts will be in southern and eastern New England like Boston, Hartford and Portland, Maine, which all could get up to eight inches of snow by sunset Saturday. Still, the rain and snow dividing line is evading forecasters' guesses, so it could be more or even much less.
"That said, in some areas just a one- or two-degree temperature difference could make the difference between a cold rain and a wet snow that accumulates at rates of a half-inch per hour," according to Weather.com. 
The worst of the storm will impact Boston and other parts of costal New England. AccuWeather predicts the storm will increase through Saturday nights, bringing gusts up to 50 mph in spots like Cape Cod and Bangor. As a result, downed power lines and trees could cause severe damage.
The storm will exit the country by Sunday, when bitter cold temperatures will steep major East Coast cities early next week. Despite the dry winter and mildish temperatures, it's a sad reminder that winter is far from over.