These Amazing Activists Prove Beauty Comes in All Sizes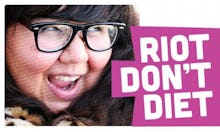 This is Tess Munster: 
She's a body positive plus-size model known for her social media presence. An Instagram star and creator of the successful hashtag #EffYourBeautyStandards, Munster recently made history by becoming the first woman of her size and height to be signed to a major modeling agency. But she is hardly the only activist who uses social media to disrupt narrow conceptions of beauty. 
Women all over the country are taking to social media platforms like Instagram, YouTube and beyond to fight the narrow definition of beauty valued in the Western world. 
Rather than accept standards that position their bodies as inadequate or "other" in some way, these courageous individuals are using the tools at their disposal to educate others by rejecting conventional narratives and proving that all bodies — no matter their size, color or any other factor — are beautiful.
Here are a few of these inspiring activists:
Virgie Tovar, creator of #LoseHateNotWeight 
From the age of 5, Tovar recalls being "systematically emotionally tortured" by her peers because of her size. Although she knew this treatment wasn't right, she "didn't have any language to articulate what exactly was happening," she told Mic. She eventually realized that "no amount of weight loss or body alterations actually free us from that 'I'm never good enough' mentality," and the only solution would be to eradicate that mentality itself.
Tovar said this can be achieved by capitalizing on the democratic power of social media: "Social media has served to boost the signal of a message that mainstream media had convinced us was a minority opinion." Hashtags like #LoseHateNotWeight, which Tovar started, promote community and allow people who may be socially isolated to create and develop relationships with others who "inspire, challenge and support them all over the world."
Melissa Fabello, YouTube crusader 
Fabello became a body image activist as part of her recovery from an eating disorder spurred by an abusive relationship. After recovering, she found that feminist and body positive movements saved her life. "It was like a born-again religion to me," she told Mic. "I felt compelled to spread that gospel."
And spread it she does on her YouTube channel, with videos that tackle everything from how diets contribute to capitalism to dispelling myths about eating disorders to explaining thin privilege and beyond. Social media, specifically YouTube, offers a quick, easy way to spread messages of body positivity in a culture devoid of opportunities for people to unlearn harmful messages, Fabello said. 
Fabello said her ability to "quickly, easily and vastly" reach people through social media and, to in turn, share others' insights has had a powerful impact on her life — and her work has certainly inspired others.
Trans Folx Fighting Eating Disorders
T-FFED founder Dagan VanDemark's academic work found that the mainstream eating disorder recovery community had no idea how to navigate trans culture and that members of trans and gender-diverse communities suffer disproportionately from eating disorders and body image issues. VanDemark joined forces with a team equally enthusiastic about challenging the dominant narrative that primarily depicts those affected by eating disorders as white, cisgender, presumably straight, able-bodied, upper class, young, female and usually insured.
According to the T-FFED team, social media enables access to resources, support and information from which "trans and gender-diverse folx (especially folx of color) have been historically barred by gatekeeping on the part of the medical industrial complex." The group uses Twitter, Facebook and Tumblr to raise awareness and launch a dialogue about how to best "build a more sustainable [eating disorder] community that goes beyond 'inclusion' and un-interrogated 'diversity' to prioritizing marginalized leadership and the redistribution of funding to this necessary work."
Caroline Rothstein, poet and activist
Rothstein, a writer, spoken-word poet and president of the board of directors for Mental Fitness Inc., began her educational work surrounding body image after recovering from a decade-long experience with an eating disorder. After meeting a woman struggling with bulimia who told her that recovery videos on YouTube could be improved, Rothstein began to use the platform to educate others about eating disorder awareness and prevention. She created a series of videos about body empowerment and also posts recordings of her spoken-word poetry.
"My hope is that through empowering others to honor their truths and love their own bodies," Rothstein told Mic. "It will bring them closer not only to respecting themselves but also respecting everyone else they know and meet."
Nalgona Positivity Pride
Nalgona Positivity Pride describes itself as a "multi-ethnic and queer-friendly site for chubby warriors [that] focuses on the intersection of eating disorder awareness, indigeneity and issues that are relative to people of color." According to its Facebook page, the collective "no longer want[s] feminist waves, we want queer tsunamis!!"
Founder Gloria Lucas saw a lack of ethnic and gender diversity in the body justice movement during her recovery from an own eating disorder and used social media to address this gap. She uses platforms like Tumblr and Facebook because they "can be used outside the rigid nonprofit industrial complex" and help "folks of color find a safe space that they can actually relate to."
While blaming and shaming the forces that perpetuate narrow standards of beauty may be a valid initial response, it's also a relatively easy and ultimately ineffective one. What's more difficult, yet essential to creating change, is constructing a positive alternative reality. These activists are trying to do just that by educating others and working to share images that represent an array of bodies.
We owe it to these brave activists to spread the word about their work and support their message that anybody — and any body — can be and is beautiful.