The Bizarre Ways New Yorkers Are Preparing for the Northeast's "Historic" Blizzard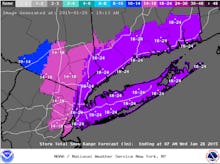 "Crippling and potentially historic." 
"Biggest snowstorm in the history of this city." 
Nearly 30 million Americans from Philadelphia to Bangor, Maine, are bracing for a massive winter storm that could trap them in up to three feet of snow and winds whipping as high as 60 mph. 
Instead, more cosmopolitan New Yorkers opted for more hipster blizzard preparation options: kale, kimchi, marijuana and random sexual encounters. 
A brief scroll through the #blizzardof2015 on Twitter shows that Whole Foods and Trader Joe locations devolved into middle class thunderdomes with droves of people waiting in long lines to score that last carton of soy milk and tin of delicious, delicious hummus: 
Sure, there were those who choose to stuff themselves with wine while others are quite literally looking to get plowed. A flurry of postings popped up on Craigslist looking for blizzard buddies. 
Uh, stay safe out there?