This Is the Latest Bizarre Fashion Trend for Men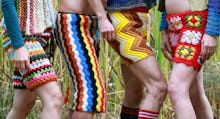 One brave designer is putting the "crotch" into "crochet." 
Your grandmother's favorite way of weaving yarn while watching The Price Is Right is getting an updated look in the form of men's clothing. The colorful and sweat-inducing (but form-fitting!) creations are being transformed into tightly stitched shorts and pants perfect for the modern male. 
According to Schuyler Ellers, who runs the fabulous Lord von Schmitt store on Etsy, the crochet wear is made into "one-of-a-kind pants" perfect for "Burning Man after the slopes" or "morning yoga in the winter." They're crafted from previously used blankets, so buyer beware.
They also come in bodysuits!
There's shorter shorts!
And how about this beautiful robe!
h/t Bored Panda