There's Bad News for People Who Can't Get Enough British Chocolates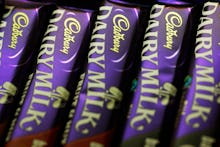 It's about to get a lot harder for American fans of British candy bars to satiate their sweet tooth.
What, WHAT?!?!?! Yes! According to the New York Times, the deal stems back to a lawsuit Hershey filed against L.B.B. Imports. The Pennsylvania-based company claimed the imported products infringed on its trademarks and aren't actually intended for sale in the U.S. 
"For example, Hershey's has a licensing agreement to manufacture Cadbury's chocolate in the United States with similar packaging used overseas, though with a different recipe," the Times notes.
Those recipe differences are largely what fuel British chocolate fervor in the U.S. In Britain, the first ingredient in Cadbury's Dairy Milk is milk, but in the American-made version, it's sugar. The latter also includes chemical emulsifiers like PGPR and soy lecithin, which help products last longer on store shelves.
Hershey is also worried about brand confusion, as the British bars looks similar to what it sells in the U.S. For example, the Yorkie, a five-nugget bar of chocolate, sounds too similar to the York Peppermint Pattie. The same goes for Toffee Crisps, "which, because of their orange packaging, and yellow-lined brown script, too closely resemble Reese's Peanut Butter Cups," theTimes helpfully notes.
"It is important for Hershey to protect its trademark rights and to prevent consumers from being confused or misled when they see a product name or product package that is confusingly similar to a Hershey name or trade dress," Jeff Beckman, a Hershey representative, told the Times in an email explaining the lawsuit. 
The reaction. People are pissed, especially British expatriates who think Americanized chocolate products taste like literal hot garbage. This is best captured by Nicky Perry, an expat who owns a British gift shop in New York.
There's a workaround. A burgeoning black market is forming on eBay for Americans looking for their chocolate fix. We found a variety pack of British candy on sale for a reasonable $15. However, a 48-count Cadbury Creme Egg carton will set you back $80.
Still, it's a lot cheaper than spending $800 on a plane ticket to London.