While You Were Sleeping, #Blizzardof2015 Turned the Northeast Into a Winter Wonderland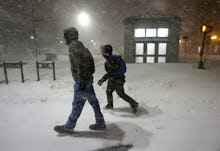 Steven Senne/AP
Overnight,  New England was turned into a winter wonderland.
That "crippling and potentially destructive" blizzard expected to wallop New York and New Jersey with several feet of snow churned out just a few inches, making meteorologist predictions embarrassing. 
The brunt of the so-called #Blizzardof2015 slammed eastern Long Island, central Connecticut and wide swaths of the Northeast, including Boston. Those cities collected more than two feet of snow with more expected to accumulate throughout the day. 
New York
Massachusetts