Jon Stewart Nails the Media for Flipping Out Over New England's Tepid Blizzard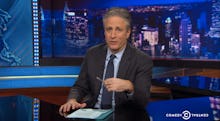 "My guess is if you are watching this program, New York is gone."
That's the sense that anyone who was watching cable news likely had after seeing coverage of the blizzard that wasn't. On Monday's Daily Show, host Jon Stewart mocked the hype of the impending alleged storm.
"Those of you outside of the Northeast may not be aware of this," Stewart said, "there is an enormous blizzard that is hitting our area currently."
He told viewers to remember New York for its pizza and bridges, and "not for our tendency to tell people to — if they happen to have their eyes locked with ours — to go fuck themselves."
Stewart was surprised that 100 or so people even showed up for the show's taping, considering the weather. "This is an impression of me, if I was one of their friends, and they called me up to go see the Daily Show," he said, before imitating an audience member: "Yeah, fuck that."
Since his show taped before the height of the cable news craziness — we're looking at you, CNN's "Blizzardmobile" — we're excited for the actual roast of the coverage that hopefully comes Tuesday night.