The Islamic State Group Just Released a Horrifying Video of Its Japanese Hostage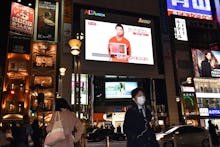 A chilling video posted online Tuesday, purportedly from the Islamic State militant group, shows Japanese hostage Kenji Goto saying he and a captive Jordanian pilot have less than "24 hours to live" unless a terrorist detained in Jordan is released.
The message shows Goto, who is reportedly the only surviving Islamic State hostage captured last week, wearing an orange prison outfit and holding a picture of the pilot, Moaz al-Kassasbeh. It was posted to social media accounts that sympathize with the terrorist organization.
Goto says this is his "last message" and "it is me for her," referring to suicide bomber Sajida al-Rishawi. She's currently awaiting execution in Jordan for her role in a series of deadly al-Qaida attacks in Amman that left at least 57 people dead in 2005.
The video comes on the heels of a message released last Saturday with Goto holding a photo of what appeared to be the corpse of the other Japanese hostage, Haruna Yukawa. The group previously requested a $200 million ransom for both men. 
"You have seen the photo of my cell mate Haruna slaughtered in the land of the Islamic caliphate," Goto says in the tape. "You were warned. You were given a deadline, and so my captors acted upon their words. ... [Prime Minister Shinzo] Abe, you killed Haruna. You did not take the threat of my captors seriously and you did not act within the 72 hours."
According to ABC News, the White House National Security Council is aware of the video but didn't comment further. Officials and media organizations are trying to authenticate the message, but the previous video released on similar channels have proven to be legitimate.