Jordan May Give In to the Islamic State Group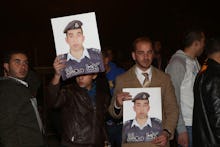 Jordan is set to engage in a prisoner swap to save the life of a pilot who's being held hostage by the Islamic State group, according to multiple media reports. 
If true, the country is caving to extremists' demand to return would-be suicide bomber Sajida al-Rishawi, an Iraqi woman who is sitting on death row in Jordan, in exchange for the alleged safe return of Mu'ath al-Kaseasbeh, the fighter jet pilot who crashed in Syria in December 2014.
It's unclear if the deal includes the release of Kenji Goto, the Japanese hostage who purportedly said in a video released Tuesday that he would be killed unless al-Rishawi, who's been imprisoned in Jordan since 2005, is released. IS beheaded the other Japanese hostage last week after the country didn't give them a $200 million ransom.
Jordan's exchange is risky and runs against the country's usual hard-line approach against terrorists. Similar to the U.S., Jordan doesn't negotiate with extremists and a swap could "set a precedent for negotiating with a militant group that previously has not publicly demanded prisoner releases," USA Today reported. 
It's not "immediately clear" if IS would accept the offer, CNN reported.