15 Kickass Women Who Had their Relationship Priorities Straight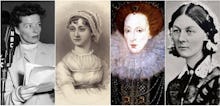 There's a sentence so many single women have to endure, surfacing often when the subject of her singledom comes up. It's meant to be a source of comfort coming from those who are "happy" and "fulfilled" in relationships, to tell these poor single women it will get better:
"You'll find someone."
The sentiment reinforces the stigma that a single woman — especially a single woman of a certain age — is an anomaly, just waiting to be made normal. And it assumes that being with a partner is inevitably better than being without one.
But not only is being single more common these days than not — as of 2014, 44% of Americans have never been married and more than half are women — but being without a partner can be awesome. Relationships or partners can be positive, of course, but they're not the only key to a happy, fulfilling life.
There are plenty of famous women whose wisdom reminds us of that fact, women who knew that "single" doesn't equal "spinster," and that delaying or eschewing marriage is indeed possible and often even beneficial. Romance is great, but it's not everything. These kickass women, past and present, had their relationship priorities straight. 
"The time is come when women must do something more than the 'domestic hearth,' which means nursing the infants, keeping a pretty house, having a good dinner and an entertaining party."
It's no surprise that this revolutionary woman who pioneered modern nursing and statistics chose not to marry. Nightingale (1820-1910) saw a purpose for her life beyond the societal conventions the married life offered women in her time, and she saw her duty to nursing to be a life's calling deserving of her full attention.
Diane Keaton: All the stylish menswear, none of the "needing a man" thing.
"I remember when I was young I honestly believed in some ridiculous way that you would find someone who would be the person you lived with until you died. I don't think that because I'm not married it's made my life any less. That old maid myth is garbage."
Despite having been in relationships with many of Hollywood's most eligible bachelors — from Al Pacino to Warren Beatty — Keaton, 69, has famously remained single. This hasn't stopped her in acting or her personal life; Keaton is an Oscar winner and mother to two adopted children. 
Coco Chanel: Strong skirt suit game, even stronger self-confidence.
"It's probably not just by chance that I'm alone. It would be very hard for a man to live with me, unless he's terribly strong. And if he's stronger than I, I'm the one who can't live with him. ... The two men I've loved, I think, will remember me, on earth or in heaven, because men always remember a woman who caused them concern and uneasiness. I've done my best, in regard to people and to life, without precepts, but with a taste for justice."
The legendary fashion designer (1883-1971) is credited with liberating women's fashion from the constraints of the corset. But she is nearly as well-known for never marrying as her she is for her renowned ambition and talent. 
Katharine Hepburn: A no-nonsense attitude meant no husbands necessary.
"Being a housewife and a mother is the biggest job in the world, but if it doesn't interest you, don't do it — I would have made a terrible mother."
A secret 26-year relationship with the married Spencer Tracy may have had something to do with this iconic actress' marital status. But Hepburn (1907-2003) famously shunned Hollywood conventions; it's no surprise she shunned societal conventions too.  
Mae West: In the glamorous pursuit of sex (even if it landed her in jail).
"Getting married is like trading in the adoration of many for the sarcasm of one."
West (1893-1980) may have married twice, but her relationships were far from traditional. Instead of playing housewife, the powerhouse expanded her career from actress and singer to screenwriter/playwright, becoming an icon in the process. Sex-positive before that was a common term, West's play Sex actually earned her jail time for its racy nature.
"The only thing I ever regret is bringing up Stedman's name so much. Some people think that's some kind of longing I have to be married, but I just mention him because he's in my life, like Gayle [her best friend] is in my life, like my dogs are in my life."
Oprah is a television mogul and business woman, but the pressure to marry long-term boyfriend Stedman Graham, whom she's been with for almost 30 years, has been nearly constant. Yet they've maintained a low-key relationship, even without a trip down the aisle. 
Jane Austen: A single woman in possession of a good brain? Definitely not in want of a man.
"Mine is an active, busy mind, with a great many independent resources; and I do not perceive why I should be more in want of employment at 40 or 50 than one-and-twenty."
Despite having written some of the most beloved love stories of all time, Austen (1775-1817) famously never married. Her only engagement lasted a few hours, with her spending her life more dedicated to her writing. 
Queen Elizabeth I: There was only room on that throne for one.
"If I follow the inclination of my nature, it is this: beggar-woman and single, far rather than queen and married."
Many historians have speculated as to why the monarch (1533-1603) never married — she did have numerous suitors, it's said. But perhaps she didn't want to risk sharing her power as would have been expected in the patriarchal society over which she reigned.
Mindy Kaling: So many hot costars, so little need for real-life boyfriends.
"In my 20s, I was not only boy crazy, but marriage and relationship crazy. ... Now it's almost the opposite. My work is so rewarding and I'm so self-centered about it that I'm kind of excited about not having to go home and ask someone about their day."
Kaling may play a relationship-obsessed doctor on TV, but in real life she's focused on her career goals, which include a best-selling book, a kickass Instagram and a powerhouse TV show that bears her name.
Louisa May Alcott: Little woman, big independence streak.
"Very sweet and pretty, but I'd rather be a free spinster and paddle my own canoe."
The Little Women author (1832-1888) had a lot in common with her protagonist Jo, choosing to earn her own living rather than find a husband to support her. Independence is something she valued over the luxury of marriage. 
Salma Hayek: Sexy on camera, totally self-assured off it.
"It's nice to have a relationship, but women have become addicted. You can have a relationship with God. With nature. With dogs. With yourself. And yes, you can also have a relationship with a man, but if it's going to be a shitty one, it's better to have a relationship with your flowers. I know so many lonely women who are married! You have to know the worth of your existence regardless of a man, regardless of an emotional love affair, even regardless of a career. Why should these things validate you as a human being?"
The screen siren is well known for her racy roles, but she's always kept her relationships low key. But even with famous exes like Edward Norton, Hayek waited until she was in her 40s to walk down the aisle. 
Emily Dickinson: Making reclusiveness rad since 1830.
"To live is so startling it leaves little time for anything else."
Dickinson didn't let her self-imposed seclusion stop her from becoming a lauded poet (in fact, perhaps it helped), and she even struck up correspondence with men from time to time. It still wasn't enough to distract her from her first love: poetry. 
Cameron Diaz: A hilarious leading lady who doesn't need a leading man.
"I'm not sitting there going, 'Oh my god, when am I going to get married? When am I going to have a baby?' I would be remiss if I was living my life wishing I had something other than what I have. If one day, I am blessed with the experience of having a child, I would be overjoyed, but I am not sitting here feeling empty because I haven't yet, or that I may not."
Diaz recently walked down the aisle, but at age 42 is bucking societal expectations. Even with a string of famous exes, Diaz waited until marriage was right for her. 
Greta Garbo: Totally mysterious, totally independent.
"The only good reason for two people getting married is that they can be together most of the time. That is impossible with me so long as I remain on the screen."
Screen legend Garbo had many famous romances, but her real passion was her acting career. Even the numerous proposals of lover/costar John Gilbert wasn't enough to tempt her down the aisle. 
Candace Bushnell: All the sex in the city, no husband required.
"I am married, but I didn't marry until I was 43. I knew when I was young that if I had to make a choice between being married and being a writer, I would have chosen to be a writer. I think it's a career where you have to put the career first."
As the creative mind behind Sex and the City, Bushnell created one of the most famous single women to ever come across our screens. But she did so knowing that she was sacrificing her relationships. While married now, she has no regrets of putting her career first.