The Search for Malaysia Airlines Flight MH370 Is Officially Over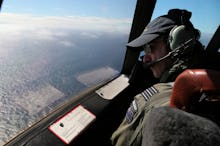 The disappearance of Malaysia Airlines Flight MH370, which vanished shortly after take off from Kuala Lampur in March 2014 and sparked one of the biggest aviation mysteries in history, has officially been declared an accident.
In a statement Thursday, the Malaysian government said the 239 people on board the Beijing-bound Boeing 777 should be "presumed to have lost their lives" and compensation to the victims' families will begin. 
"It is therefore, with the heaviest heart and deepest sorrow that on behalf of the government of Malaysia, we officially declare Malaysia Airlines Flight MH370 an accident," said Azharuddin Abdul Rahman, director general of Malaysia's Department of Civil Aviation. 
He said the news would "be very difficult for the families and loves ones," but the formal announcement complies with international law so that families can start receiving financial assistance from the airline. 
Malaysia Airlines is ready to begin the next-of-kin process to the passengers' families, much to the relief of China, which had the majority of people on board. Beijing's foreign ministry spokeswoman said it urges the airline to "earnestly fulfill their compensation responsibilities." 
The airline is expected to pay out roughly $45,000 for each person on board, in addition to the $5,000 it gave the families last year for expenses while waiting to hear of news about the vanished airliner.
Despite the official declaration, efforts aren't completely over: Rahman said that locating the plane "remains a priority," despite a nearly 10-month multinational search effort that has not even turned up a signal piece of debris. 
Flight data reveals the plane veered sharply off its flight path and likely crashed in the southern Indian Ocean. Malaysia is also conducting a criminal investigation, and the search is still on going. 
"Both investigations are limited by the lack of physical evidence at this time, particularly the flight recorders," Rahman said. "Therefore, at this juncture, there is no evidence to substantiate any speculations as to the cause of the accident."