One Man Tried to Cancel His Cable, So Comcast Changed His Name to "Asshole"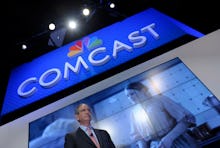 Breaking up with Comcast is hard: the endless calls, the cries of desperation, the promises that this time they'll really change. But cable companies never change — unless it's changing your name to an insult.
Just ask Ricardo Brown, who had his first named changed to "Asshole" on his bill following a phone call from his wife, Lisa, to the company in an attempt to have a cancellation fee waived.
Lisa Brown's request was bounced from a customer representative to a "retention specialist," a member of the army of employees whose sole goal is to keep customers from dropping Comcast. The specialist tried to convince her to remain a customer and even to sign an additional two-year contact. She refused, but told consumer advocate Christopher Elliott she was never rude and can't figure out why she was called an asshole.
"It could have been that person was upset because I didn't take the offer," Brown told Elliott. 
Comcast's local offices couldn't explain to her why her husband's name was changed to the appendage. Elliott reached out to company headquarters, which issued an apology for the mishap. 
"We have spoken with our customer and apologized for this completely unacceptable and inappropriate name change," a company rep told Elliott, adding that it has "zero tolerance" for this type of behavior. 
Regardless, Brown said Comcast's name calling is "unacceptable." So, in an attempt to make nice and not be bruised with another public relations ding, Comcast has refunded her past two years of service in addition to that lame apology.
This isn't the first time Comcast's bullying ways have angered its customers. In July 2014, a call between a customer and customer rep went viral after the company refused to let them cancel. Comcast's bad behavior even led to a Massachusetts town to try to ban the "deplorable" company from setting up shop there.
Perhaps this is another example of Comcast living up to its reputation of being one of the most-hated companies in America. In the end, maybe they're the assholes. 
h/t Consumerist