The Islamic State Just Released a Disturbing Video Threatening President Obama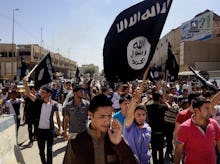 The Islamic State wants to behead President Barack Obama in the White House.
In a new video released by the terrorist organization on Thursday, a militant from the Islamic State group warns that it will "transform America into a Muslim province," in addition to threatening to attack U.S. allies, like France and Belgium, with explosive car bombs. The message, titled "Bombardment of Peaceful Muslims in the City of Mosul," was filmed in the Iraqi city's streets sometime this month.
The video begins with pictures of the embattled city of Mosul, which was shelled by Kurdish Peshmerga troops earlier this month, and then segues to a masked Islamic State fighter holding a captured Kurdish fighter. Per translation from Middle East Media Research Institute, the militant warns that the violence will continue.
"This is the fate of anyone who opposes Islam," the terrorist says in Kurdish. "Know, oh Obama, that we will reach America. Know also that we will cut off your head in the White House and transform America into a Muslim province."
"And this is my message to France and its sister, Belgium," the man continues. "We advise you that we will come to you with car bombs and explosive charges and we will cut off your heads."
The video then concludes with the terrorist beheading the Kurdish soldier in the city streets with cheers from onlookers. 
It has been turbulent month for Islamic State fighters, who just lost the key Syrian border town of Kobani on Monday after a four-month battle with Kurdish fighters. U.S. and Kurdish troops now have their eyes on recapturing the Islamic State-controlled city of Mosul using an onslaught of rocket attacks. 
The Islamic State's threatening Obama by name is not a new tactic. In a message last summer, the organization threatened to "raise the flag of Allah in the White House" if the U.S. continued its attacks. In another message during the same time period, an Islamic State leader warned Obama that they were coming for him.