Disney Just Unveiled Its First Latina Princess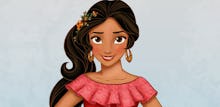 Move over, Dora: Disney is introducing a Latina princess.
Described as a "confident and compassionate teenager," the animated Princess Elena of Avalor will star in her own television show on Disney Junior beginning next year. A spin-off of the hugely popular show Sofia the First, Elena will live in "an enchanted fairytale kingdom inspired by diverse Latin cultures and folklore," Deadline reports.
The new show is a new attempt by Disney to address the programming interests of Hispanic Americans, one of the fastest growing populations in the U.S.
It also means the notoriously non-diverse network is doing more to reflect the our diverse population. As Mic's Gabe Bergado previously noted, "Protagonists of color such as Pocahontas, Jasmine and Tiana are few and far between their white counterparts. Some critics argue that The Princess and the Frog did more work to enforce stereotypes than break them."
Simply introducing a character of color is only the first step — it will still be an uphill battle for Elena to gain popularity in a white-centric market place. There's been a documented correlation between the lightness of a princess's skin and hair and how much merchandise she sells, itself a good indicator of her popularity. Frozen's super-white and super-blonde Elsa sold the most merchandise in a study of eBay sales, while Princess and the Frog's Tiana and Aladdin's Jasmine saw far less commerce.
Nevertheless, it's important that Elena is being billed upfront as a "princess inspired by Latin cultures." As Mashable points out, parent show Sofia the First had a rocky start when a producer labeled the main character Latina, then backtracked. The company later clarified that Sofia was purposely not Latina, because her fictitious background was a blend of various real cultures, including Hispanic and Scandinivian influences. 
At the time, executives hinted at another project-in-progress that would deliver the first officially Hispanic princess; it appears Elena of Avalor has come to fulfill that promise.
"Our creative team has delivered a universal story with themes that authentically reflect the hopes and dreams of our diverse audience," Disney Junior executive vice president Nancy Kanter said in the statement. "What excites us most is the chance to use distinctive animation and visual design to tell wonderful stories influenced by culture and traditions that are familiar to the worldwide population of Hispanic and Latino families and reflect the interests and aspirations of all children as told through a classic fairy tale."
To which we respond: finally.