Watch the First Trailer for the Fifth Season of 'Games of Thrones'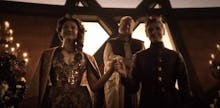 The dragons are back.
Game of Thrones fans got their first peek at the new season of the raunchy HBO drama. Although not officially released by the cable network (just yet?), a smart-thinking IMAX viewer recorded the tease prior to a screening of last season's shows.
It starts off shortly after the death of Jamie Lannister's father, Tywin, who died at the hands of his son, Tyrion. Variety explains other plot twists, including Daenerys Targaryen's return to Westeros to capture the Iron Throne and a war between Jon Snow and Stannis Baratheon. There's also a wedding between Margaery Tyrell to Tommen Baratheon.
Several new favorites are joining the cast like 24 actor Alexander Siddig as Doran Martell and Jessica Henwick as Nymeria Sand. Also being added are Rosabell Laurenti Sellers as Tyene Sand, and Keisha Castle-Hughes as Obara Sand.
It won't be much longer until it comes back: Game of Thrones premieres April 12 at 9 p.m.