Obama Is Proposing a New Tax That Corporations Will Absolutely Hate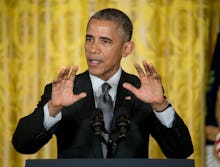 President Barack Obama will announce Monday that he's pursuing additional taxes from U.S. companies operating overseas as part of a $3.99 trillion budget for 2016. It's part of his larger plan to hike taxes on the rich and help the "hard-working families get ahead in a time of relentless economic and technological change," the White House said.
The plan: Currently, the corporate tax rate is 35%. But companies often avoid paying those taxes by classifying them as "indefinitely" invested abroad. Obama is attempting to close this tax avoidance loophole with two new proposals. 
The first part of the plan calls for a one-time 14% tax on the $2.1 trillion in profits that corporate giants like Apple, General Electric and Pfizer have tied up outside of our borders. 
"This transition tax would mean that companies have to pay U.S. tax right now on the $2 trillion they already have overseas, rather than being able to delay paying any U.S. tax indefinitely," a White House official said per Al-Jazeera. 
He will also ask for a 19% tax on U.S. companies' future overseas earnings, which will pull in $238 billion to fund the Highway Trust Fund. That's aimed at improving the nation's crumbling infrastructure.
"Envy economics": Since Obama's budget has to be approved by a Republican-controlled Congress, it's "unlikely to become law," Reuters surmises. Most top-level Republicans don't support taxing the rich.
On Sunday's Meet the Press, Paul Ryan, the Republican Party's tax writer, said: "What I think the president is trying to do here is to, again, exploit envy economics," adding that "top-down redistribution doesn't work."  
Sen. John McCain (R-Ariz.) declared Obama's tax plan "DOA."
But the president held firm, telling NBC Today host Savannah Guthrie that his "job is to present the right ideas, and if the Republicans think they have better ideas, then they should present them," according to USA Today. "But my job is not to trim my sails."
Obama's new budget calls for allocating $3 billion to STEM programs, while $60 billion would go toward free community college. He also aims to ease automatic cuts on military programs. 
h/t Reuters