Watch Jimmy Fallon, One Direction, Usher and Other Pop Stars Rock "We Are the Champions"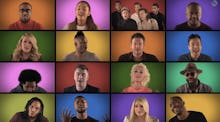 Only Jimmy Fallon could bring something more star-studded to Super Bowl Sunday than the actual Super Bowl.
One Direction, Usher, Ariana Grande, Sam Smith and several other chart-toppers joined Fallon and his house band The Roots to create a rousing a cappella version of Queen's "We Are the Champions" for Sunday's post-game edition of The Tonight Show Starring Jimmy Fallon.
What had potential as just another annoying video from the Fallon factory instead delighted us with its Brady Bunch-inspired format and head-bopping vocal stylings that prove the stars can all actually sing without instruments. 
The only thing missing is Katy Perry's dancing sharks. 
h/t Just Jared