Forget the Groundhog: 70 Million Americans Slammed by Massive Winter Storm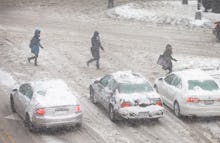 You don't need a groundhog to see that America's in for six more weeks of nasty, brutal winter.
Nearly 70 million Americans, from Indiana to Maine, are dealing with another brutal bout of snowfall, icy conditions and buckets of rain that began while revelers were celebrating the Super Bowl on Sunday. 
The powerful storm system blasted Midwestern cities like Detroit and Chicago on Sunday and continued its forceful march eastward on Monday, pounding New York, Boston and Portland with several more inches of snow just as they were almost done digging out from last week's storm. 
In Chicago, the blizzard dumped 19.3 inches of snow at O'Hare International Airport, making it the fifth-worst storm ever to slam the Illinois city, according to meteorologists. The snow grounded more than 1,000 flights and closed Chicago Public Schools. 
Detroit, meanwhile, was also lashed with 16.7 inches of snow, making it the city's third-biggest snowstorm of all time. The city's schools and surrounding universities all canceled class Monday, and the Detroit airport saw 200 cancellations on Sunday. 
In New York, the snow event turned mostly into a slushy rain and snow mix that's walloping New York City with icy conditions. Forecasters estimate the city will only see three inches of snow; however, surging temperatures across Long Island and Manhattan could bring urban flooding and freezing rain. These conditions made for a less than desirable morning commute, especially thanks to ponding. 
Cities in upstate New York, including Buffalo and Syracuse, also battled with arctic conditions. Roughly eight inches of snow slammed the cities, with another two to four expected by day's end. But since they're used to winter, schools operated on a two-hour delay instead of canceling. 
This is what Albany looked like on Sunday, when it got between six and 10 inches of snow:
With colder air stretching across the Northeast, the storm will mostly affect Maine, Massachusetts and Vermont. 
Boston, which is still recovering from last week's blizzard, is expected to get another foot by Monday night. It only needs another 10 inches to break its record of the snowiest seven days in a row, MSNBC depressingly notes. 
To top it all off, Punxsutawney Phil predicts six more weeks of winter. Ugh.