This College Just Made Fat-Shaming Part of Their Class Curriculum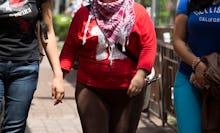 Bryn Mawr College administrators are going to have to take some sensitivity classes after being accused of fat-shaming the school's student body.
Rudrani Sarma, a junior at the women's liberal arts college in Pennsylvania, was "horrified" when she received an email from the university inviting her to a "weight loss success" program because her body mass index (BMI) level was identified as "elevated."
"I've dealt with an eating disorder for many years, and I didn't know how I could receive something like this from the same health center that treated me," she told CBS News. She blasted the college on her Facebook account, saying the email was "problematic, it's hurtful, and it's just plain stupid."
Sarma told WPVI-TV she was treated for an eating disorder and felt her privacy was intruded upon after getting the email. "I felt very targeted," she said. "It didn't feel like the school had my best interest at heart. Knowing my personal history, it was an email telling me to lose weight." 
Sarma wasn't alone. Bryn Mawr recently sent out emails to 100 students asking them to join a fitness program based off their private health information stored at the student health center, Philly.com reports. 
"There were truly good intentions behind this," Bryn Mawr spokesman Matt Gray told Philly.com. "It's a program that includes individual counseling, nutritional advice and group support." He added that since it started in October, no one has voiced their concerns about it — until now.
After filing a complaint, Sarma received an apology from the college, which told her it was a nurse's fault for incorrectly listing her height on her records. Even if the information were correct, she said it still felt like an unwelcome invitation. 
"I would have felt just as horrified and just as uncomfortable," she said. "I would have felt as if my school was discriminating against me."
Natalie DiFrank, a sophomore, echoed Sarma's thoughts.
"Being a fat woman is — the idea that a constant thought and reminder I had in my head that I do not fit in on campus," DiFrank told CBS News. "And I think it did trigger a lot of feelings for me personally. I'm feeling, 'Oh my god, my body is being eradicated. They want my body out of here.' The health center is looking at me as a problem that needs to be changed."
First of all, BMI is a shady metric. The calculations that go into determining a person's body mass index don't distinguish between fat and muscle, nor do they take the size of a person's frame into account. Since muscle is more dense than fat, individuals with a high percentage of lean muscle mass and low fat can still qualify as "obese" according to BMI. A single number isn't a barometer of overall health, especially when it's data driven and not unique to the person being evaluated.
Bryn Mawr issued an apology "to anyone who has been upset or offended" by the email. The college said it would "rethink our approaches and our assumptions moving forward." 
Assumptions, indeed. Not only did the college snoop into its students' health records, it blindly corralled them into a group without talking to them to see if their weight was actually a problem. And even if it had, Bryn Mawr should know that fat shaming tactics rarely work.